Attraction Marketing is the use of marketing techniques specifically designed to teach or inform the customer who you are and what you are doing and how a service or product will benefit them well before they purchase it. Marketing is defined by the American Marketing Association as the activity, set of institutions, and processes for creating, communicating, delivering, and exchanging offerings that have value for customers, clients, partners, and society at large. The term developed from the original meaning which referred literally to going to a market to buy or sell goods or services. The Chartered Institute of Marketing defines marketing as "The management process responsible for identifying, anticipating and satisfying customer requirements profitably."
How it works
It works by providing valuable content for future customers to figure out how your product is going to benefit them before they buy it so that they are qualified customers before they step in the door.
Who is using
Most successful multi-level marketers use this concept, to grow their businesses and help their associates to do the same. This is not a new concept but is the new way of thinking in advertising and marketing. Advertisers and marketers have been using this for years because they were the only ones who had the capital for this concept with commercials and newspaper ads. Now with the birth of the Internet anyone can do the same thing and attract their niche market of customers using several unique tools, free online. Companies using the method include: Amway, Buzzwe, YesUCan.biz,URFranchise, and ACN.
It's important to make some clarifications on the Attraction Marketing concept as it is being used in the Direct Selling industry. While it is true that it uses the same principles of marketing, advertising and branding used by major corporations, the process being used by Network Marketers is a distinct way of leveraging these concepts. It should be stated that Network Marketing companies themselves do not participate in Attraction Marketing. Rather it is the independent distributors who engage in Attraction Marketing in order to build their personal brand, not the brand of the company.
There is a specific formula being followed my most Attraction Marketers, that was coined by Mike Dillard. It involves advertising or content marketing to generate traffic to a capture page of some type. The goal is to get people to opt in to an email list by offering information that will help them build their business. This process enables one to build trust and value with their email list. They can then distribute product offers to their list, which is an additional income stream. The other goal, and perhaps the overriding goal, is to present the business opportunity after one has established him or herself as a person of value, increasing the likelihood of people joining their team.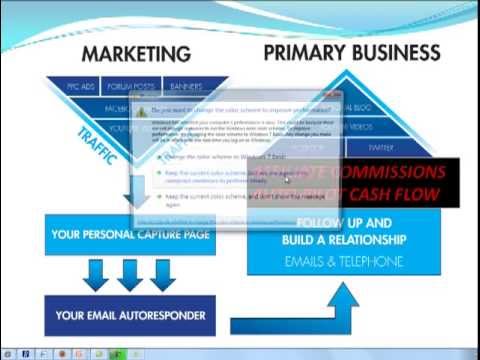 The Attraction Marketing Formula
The concept of attraction marketing is really simple.  Imagine if you could get 5 -10 people to contact you every single day about your business.  How would that feel?  What would it do for your bank account?
You've become the hunted instead of the hunter.  That, my friend is the attraction marketing formula.
You can pursue or you can be pursued.  Which do you prefer?
What's crucial to understand as a part of this formula is that people do not join a business, they join you.
In fact, let me give you a list of things that absolutely do not matter in mlm:
My product is cheaper.
My product has a higher ORAC value.
We have the best comp plan ever known to man
My product has every vitamin and mineral that exists.
My product is better than yours.
My product was discovered by the ancient Hoogapooka tribe and it's been healing the sick and stamping out disease for 3000 years.  It causes the blind to see and the lame to walk.
The fiber in my product is so strong you'll lose 50 lbs in 24 hrs after one use.
We're in pre-launch and already 1,000,000,000 people have signed on.
NO ONE CARES!!! Trust me on that!
So what do people care about?
Great question…
What do you care about?  Would you want to know:
How to generate 50 leads a day?
What about a FREE script book on how to prospect and close people with ease?
Maybe you need to learn the proper way to build relationships and make money on Facebook?
That my friend is what attracts people and it's called value.  That's the principle of attraction marketing.  Attraction marketing is characterized by leading with value first.  You must give before you can take.  It simply means before you puke your business opportunity all over someone, you brand yourself, by leading with value.